What is Augmented Reality (AR)?
Augmented Reality is a technology that takes the help of smart hardware devices, like smartphones, tablets, or Smart Spectacles/AR Glasses, to get overlaid digital information about the real-world product you see through the lenses of any of the mentioned smart devices equipped with AR functionalities.
But have you wondered what technologies provide AR the power it holds?
AR technology extensively uses computer vision and machine learning algorithms for image recognition and tracking real-time user environment. This places real-world objects virtually the way users can engage with a virtual feel, like holding them as an element of the physical environment.
Potentially, AR shifts the way we interact with the world around us with the seamless integration of digital information with our physical environment.
The consequences of the pandemic, changes in consumer habits, and the growth of online shopping collectively resulted in an apocalyptic effect for retailers and their stores.
These days it is not enough to simply be aware of the customer's needs and leverage traditional approaches. On the contrary, to remain ahead of the competition, retailers must learn to foresee customer wishes and upcoming trends. The only way to do this is to be ahead of time and invest in technical solutions to conquer the modern market.
In the modern world, routine visits to stores or shopping centers are increasingly becoming a waste of time. Mark Kennedy once said, "All of the biggest technological inventions created by man — the airplane, the automobile, the computer — says little about his intelligence but speaks volumes about his laziness."
If a particular technology makes people's lives easier, it is destined to be a success. Augmented reality is considered to be such a technology. With the help of AR, people can tour the Egyptian pyramids at the Thomas Cook Agency, view an Audi virtual showroom from the comfort of their homes, or simulate their own virtual kitchen equipped with the latest IKEA furniture.
In a market where competitors offer similar products within the same price range, brands must strive to differentiate themselves. However, most business people ask themselves: Is investing in augmented reality application development worth it? What benefits of AR justify the investment of time, money, and resources? So, before investing in this technology, you should clearly understand what augmented reality is and how AR can aid your brand. In this article, we will cover the precise benefits you can expect from implementing AR in your retail.
The Benefits of Augmented Reality in Retail and E-commerce
AR increases conversion and sales
AR can help you sell more. According to Shopify, brands using augmented reality saw retail conversion rates increase by around 250%. This is because customers can choose any object and move it around the house or try on clothes. According to Adi Tatarko, Houzz's CEO, customers who used AR spent 2.7 times more time on the app and purchased 11 times more often.
AR drives sales of other products
One of the consumer's primary concerns is ensuring certain categories of products, such as furniture, generally fit perfectly with their interior design. From a customer's perspective, AR-based applications can help make effective design decisions. Before purchasing the product, the buyer can check if a particular piece of furniture fits into the room and if it matches the interior. Such AR applications help decorate entire rooms and spaces. For a retailer, this is an ideal opportunity to collect data and offer products with a similar design. Therefore, instead of buying just a single sofa, the client might additionally buy a wardrobe, a table, or supplementary interior items.
AR reduces product returns
According to Statista, online returns are a major hassle for retailers since it results in $550 billion worth of losses. This is a huge problem — however, there are many reasons standing behind this. The main reasons include the product not fitting in size, color, shape, or even looking differently compared to what was shown in the picture.

Augmented reality deeply affects decision-making by reducing confusion, frustrations, and subsequent good returns. When customers can see how a product will look in their homes or bodies before making a purchase, they are more likely to be satisfied with the product. Consequently, when they get the product, they have fewer reasons to return it. With this "try before you buy" strategy, businesses can improve their conversion rates and reduce the return of goods. For instance, Shopify recorded a 40% drop in returns thanks to AR and 3D visualization.

Augmented reality is known to have a remarkable impact on customers purchasing from some product categories for the first time. People tend to rely more on AR to reduce the risk of buyers' frustration when they are unfamiliar with a product.
AR helps sell less popular and more expensive products
Less popular and too expensive products usually capture a narrow target audience. Such clients are sometimes called "long tail" since only a few of them are willing to buy. However, with augmented reality, the number of sales for such products increases. Customers feel more comfortable and relaxed when they can explore unfamiliar products with AR. Therefore, vendors can leverage augmented reality to stimulate demand for niche or premium products by reducing consumer fear of an unfamiliar product category.
AR helps to attract new clients
A large percentage of the population is still restricted from going out because of the pandemic. Thus, by creating AR-based applications, you can provide isolated people with a unique experience of buying the necessary goods —regardless of potential limitations, including the pandemic, geographic location, or disability.
AR helps customers remember your brand and return to shopping
Findings from a number of cognitive indices demonstrated an almost double (1.9 times) engagement in people using AR compared to the group using similar but not AR-based apps. The results clearly demonstrate AR's ability to generate a more powerful customer response. Therefore, we conclude that AR improves memory and produces more powerful consumer responses. Furthermore, this means that the client is more likely to remember you and return.
AR can improve the efficiency of your employees and customer experience
One of the most significant benefits of augmented reality is that it produces a one-of-a-kind digital experience that combines the best of the digital and physical world. In fact, customers have been conditioned to judge a brand's quality primarily by how well it delivers digital experiences. AR can be experienced with standard smartphones and mobile apps. The most recent advancements in augmented reality now enable consumers to access immersive experiences through web browsers.
AR can add innovation to your production and, thereby, increase the efficiency of your employees — by making their work more accurate and less labor-intensive. The AR system provides real-time barcode scanning, indoor navigation, seamless data integration with the warehouse management system, and object recognition. These features can help employees:
Check prices and product location, and quickly deliver goods to customers. An employee scans a barcode from a customer's receipt and locates the order in the warehouse using navigation arrows and hints. This allows order pickers to find the right items for customers much faster in a crowded warehouse.
Manage stock of goods and inventory. AR system enables retailers to read barcodes of multiple products with a single scan. They can also see real-time inventory information on the screen. This increases the store's efficiency and reduces the costs associated with inventory management.
AR Types That Can Be Implemented In Your E-commerce Solution
Many experts also refer to these types as the AR application, like an AR functionality, which you may want to add to your e-commerce solution. So, let's not test patience of your curiosity and take a jump in to know about them:
1. Marker-based AR
Marker-based AR type uses a camera and a black-and-white object pattern or image as a visual marker to overlay 3D digital content in the real-world environment. Here, the marker is recognized by the AR system employing computer vision algorithms.
Here, the AR application with access to the camera has to scan continuously to put focus input and let the marker recognize the image pattern for the geometry creation. But in the case of fluctuating camera focus lines, the visual object might not be seen.
2. Markerless AR
As the name suggests, it's a type of AR that uses computer vision and machine learning algorithms to identify and track real-world objects, shapes, colors, textures, and motion, at the focus of the camera without any specific visual markers.
Markerless AR analysis employs Simultaneous Localisation and Mapping (SLAM) to analyze the environment and place right-fit maps to include 3D virtual objects. The best thing about this is that the placed 3D visual objects on the map will not move even if it isn't in the user's view field unless you do it by yourself, along with it eliminates the need for scanning new images.
It can even detect objects and their characteristics without having prior knowledge about the same, as it combines computer graphics and real-world images to understand the environment.
But the main challenge of such AR applications is gathering and managing data and also asking for the algorithm to execute the heuristic learning process.
Location-based AR
Simply put, Location-based AR uses the user's physical location through GPS, camera, and other sensors to overlay digital content nearby onto the real world. It once asks for capturing the surroundings, such as landmarks, roads, etc., so that AR applications can precisely align digital content with the real-life environment.
Examples of location-based AR applications are Pokémon Go, Ingress, and Wizards Unite. And Google is also in-line to use location-based AR to build a WebAR named VPS (Visual Positioning System) – a successor of GPS (Geographical Positioning System) to improve Google Maps user experience.
Projection-based AR
Projection-based AR refers to the system that projects the synthetic light onto the flat physical surface to showcase 3D image details. It even understands human interactions with the projected augmentation using the SLAM model. You can even create holograms using this AR type to make your offline store customers have a fun and story-guiding experience.
Ring any bell? Exactly, just the way, robust stark works with JARVIS – AI and AR technology!
This is what projection-based AR would look like!
Overlay AR
Overlay AR refers to an application overlaying the digital content on the mobile screen as it is a part of the real world.
Contour-Based AR
This type of AR focuses on the real-world object's contours/borders/edges to detect and track them to overlay their digital content onto those objects. Also, it shows the image/illustration of the digital content in such a way that creates a vibe like it's actually interacting with the physical environment.
How Do Top Brands Are Using AR Technology For Their E-commerce Business Benefits?
Now, let's know how top brands are embracing AR culture through their e-commerce platforms to facilitate their users with a world-class shopping experience:
Furniture and Home Decor
In this sector, IKEA is a leader that has incorporated AR features into its online shopping app to stay ahead of its competitors. It enables consumers to "try on" and check how their favourite furniture item would fit in the space for which they are buying it.
This initiation has eased a lot of people's problems who often find themselves in the middle of confusion or have no idea about how to select the right-fit furniture for their space.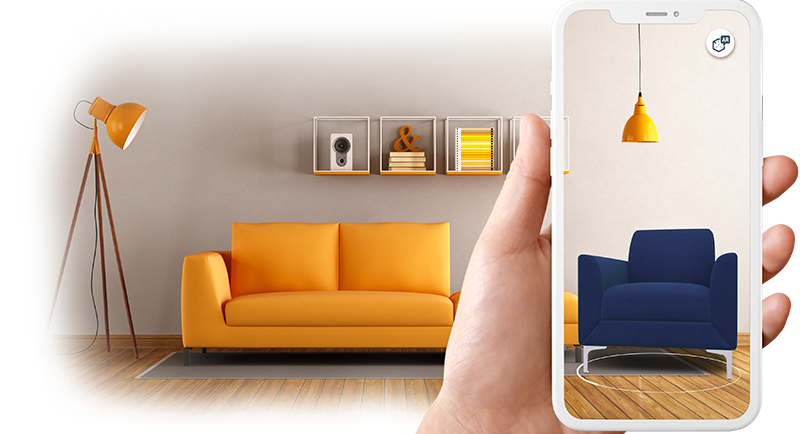 Online Fashion Apps
Know how different fashion spaces, including clothing, footwear, makeup/skincare, and other makeover brands, have adopted AR technology to redefine the online shopping experience.
Clothing
The leader of the AR-based fashion industry-based startup now acquired by Walmart – Zeekit, has brought the revolution across the industry with its ZEEKIT "Virtual Fitting Room" app.
It allows consumers to upload their full-length photos on the app and "Try On" different clothes before purchasing, which creates an elevated shopping experience just like offline shopping.
Footwear
When it comes to fashion and apparels, it's hard to forget our favorite brand NIKE offering the comfort we need for our adventure experience. NIKE adopted this AR trend to solve the biggest problem that many consumers buying footwear online often end up ordering the wrong size of shoes.
MakeUp and Personal Care
When it comes to personal care and make-up products, many brands come up with unique AR proposals. Just the way L'Oreal Paris has brought up its app named Makeup Genius and Share Genius app to help users to try on those essentials before buying with its Maybelline New York brand.
And now, it has partnered up with Facebook Meta and Instagram to offer social media users to try out its cosmetics virtually through social media makeup try-on game filters. It has also partnered with Snapchat to allow Snap users to try out its makeup essentials with the AR filter. Its competitor, Sephora, is also using AR technology in its online shopping app to allow makeup lovers to apply makeup on their faces virtually before buying it for better buying decision-making.
How Much Does It Cost to Build An AR-powered Online Shopping App?
The cost of developing an AR-powered online shopping/e-commerce app differs across various factors, such as the app complexity, features and functionalities, the platform you want to target (Android, iOS, both, or cross-platform), development team location, and more.
If we want to bifurcate the AR-powered e-commerce app development cost, then it is done in the following way:
Planning and Analysis
This includes e-commerce app idea research, scoping the app requirements and features, target audience research, competitor research, and app development strategy creation.
Design
In this phase, by utilizing the user and competitor research, UI/UX designers finalize the UI/UX elements, screen numbers, e-commerce navigation, app interaction points, and many others to finally create a basic wireframing structure, information architecture, and the prototype for you to get an idea how the product will look like post development.
Development
This is the most critical stage, which involves app development and integration of AR technology in the app for it to perform the function you have planned and implemented. As AR is yet an emerging technology, it requires specific skills; hence, impacting the cost of developing the AR shopping app.
Testing and Launch
This stage covers the extensive app performance, functionality, usability, and security testing to bug-fix the app and offer users a crash-free app user experience.
Apart from these factors, your chosen AR shopping app development model also acts as an effective cost factor. But looking for a convenient app development model, it is highly advisable to go for the dedicated talent-hiring model, which allows you to hire designers, developers, and QA engineers on an hourly basis.