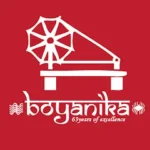 Boyanika App is the official application for Odisha handlooms that conveniently allows you to shop from the comfort of your home and get Odisha handloom products delivered at your doorstep. Pay across a wide selection of products and categories at great prices, all within a single app. You can effortlessly browse our massive collection of more than 20,000 handloom products from multiple categories.

Odisha State Handloom Weavers Cooperative Society Ltd popularly known as Boyanika by its registered trade name has stepped into its 64th year in May'2020. It was registered in 1956 under Odisha Cooperative Societies Act 1961 with the objective of providing marketing support and quality raw materials to the Primary Weavers Cooperative Societies of the State for production of handwoven fabrics.The free online shopping app assures you of a great shopping experience, with a wide selection of products from the trusted brand ofBoyanika across a range of categories, including:
Fashion for all occasions – Shop online for Men's, Women's and kids' clothes:
OZOSOFT is a reputed Web & Software development company in Guwahati with special focus on web, mobile apps and educational sectors. The employees at OZOSOFT work hard to provide innovative, cutting-edge solutions to our clients.
We have a passionate team that enjoys what they do. They are committed to providing the best for our clients. Our clients satisfaction matters so we provide premium quality and deliver on time services because we care about their success and ours.
In our company, we typically work with clients in the following ways:
Identifying their IT needs and requirements: We start by understanding the client's business goals, current IT infrastructure, and any challenges they are facing. This helps us develop a tailored solution that addresses their specific needs and requirements.
Proposing a solution: Based on our understanding of the client's requirements, we develop a comprehensive solution that includes the technologies, services, and resources needed to meet their objectives. This proposal outlines the scope of work, timeline, budget, and any other important details.
Implementing the solution: Once the proposal is approved, we begin implementing the solution. This may involve installing new software or hardware, configuring systems, providing training, and integrating the solution with the client's existing IT infrastructure.
Ongoing support and maintenance: After the solution is implemented, we provide ongoing support and maintenance to ensure that the technology is running smoothly and meeting the client's needs. This may include regular updates and upgrades, technical support, and monitoring to prevent and resolve any issues.
Overall, our goal is to work closely with clients to understand their needs and provide solutions that help them achieve their business objectives in the long run.