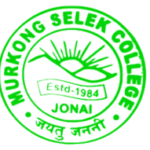 OUR VISION

The vision of the college is to impart quality higher education and enlightenment to the aspiring students of the locality as well as other areas of the state. The college seeks to implant a scientific attitude in the minds of the upcoming generations, irrespective of gender, race, religion and community. The college envisages to strive towards making education a means for the reconstruction of society by training the students to foster the freedom of the mind, the humanity of the heart and the integrity of the individual so that they can realize the great ideals of economic justice, social equality and political freedom. It also strives towards creating and maintaining the proper temperament of mind for the construction and beneficial use of scientific and technological knowledge towards achieving progress and well being of the society.

 

OUR MISSION

The college has a noble mission as it is committed to the mission of empowerment of students with poor backgrounds making higher education accessible to them. The college is committed to provide formal & non-formal education to the poorest of the poor students so that they may face greater challenges of life and the world in the days to come and thus contribute to the noble mission of a stronger nation.
OZOSOFT is a reputed Web & Software development company in Guwahati with special focus on web, mobile apps and educational sectors. The employees at OZOSOFT work hard to provide innovative, cutting-edge solutions to our clients.
We have a passionate team that enjoys what they do. They are committed to providing the best for our clients. Our clients satisfaction matters so we provide premium quality and deliver on time services because we care about their success and ours.
In our company, we typically work with clients in the following ways:
Identifying their IT needs and requirements: We start by understanding the client's business goals, current IT infrastructure, and any challenges they are facing. This helps us develop a tailored solution that addresses their specific needs and requirements.
Proposing a solution: Based on our understanding of the client's requirements, we develop a comprehensive solution that includes the technologies, services, and resources needed to meet their objectives. This proposal outlines the scope of work, timeline, budget, and any other important details.
Implementing the solution: Once the proposal is approved, we begin implementing the solution. This may involve installing new software or hardware, configuring systems, providing training, and integrating the solution with the client's existing IT infrastructure.
Ongoing support and maintenance: After the solution is implemented, we provide ongoing support and maintenance to ensure that the technology is running smoothly and meeting the client's needs. This may include regular updates and upgrades, technical support, and monitoring to prevent and resolve any issues.
Overall, our goal is to work closely with clients to understand their needs and provide solutions that help them achieve their business objectives in the long run.