The sports industry has always enjoyed popularity among millions of people. In the age of free markets, this sector is worth billions of dollars, as it offers limitless potential for businesses. Sports professionals, enthusiasts, coaches, and a stunning number of fans around the globe are seeking the perfect sports app that can fully meet their needs and wishes.
So, it's high time for companies to get into sports app development, invest in digital products, and benefit from this profitable branch.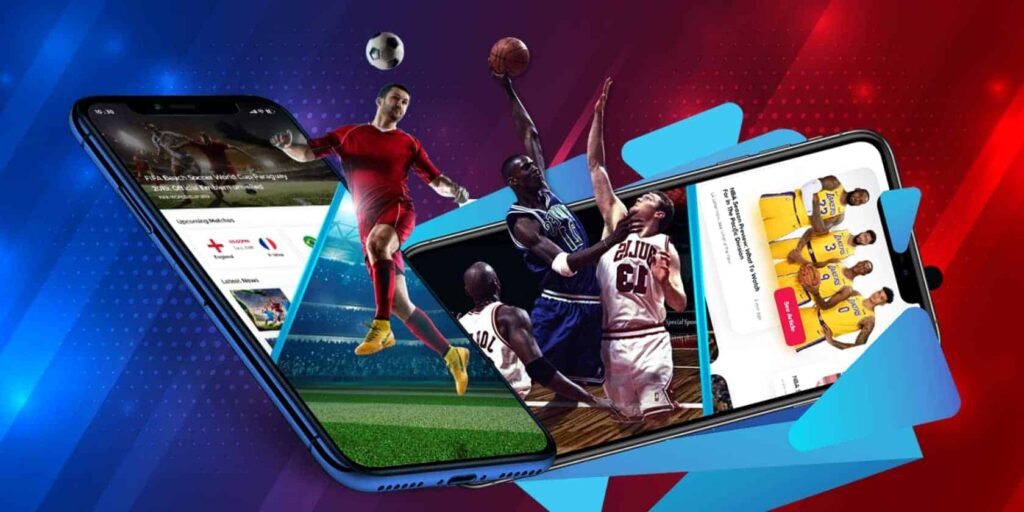 If you want to create a successful app for sports and need some inspiration, you've come to the right place. We are here to share with you some cool ideas for sports apps, as well as reveal the latest trends in the sports industry so far.
Sports app market overview
If you start a sports business and create dedicated digital products, you'll most likely have a huge audience. But if we take a closer look at the branch, how big is the sports industry in numbers?
It's safe to claim that the world is crazy about sports. According to one of the latest Statista surveys, in the US, 70% of the respondents identify themselves as sports fans. When considered globally, other studies show that the football fan base counts over 4 billion fans.
The numbers are huge, yet hardly surprising. Today, it's easier than ever to be a dedicated fan, particularly following sports events and favorite teams' performances. As 64% of fans say, people can consume sports content conveniently whenever they want. Indeed, they have access to nearly every sports event on every platform and in any form.
The rise of sports mobile applications has also contributed to the accessibility of sports content. The variety of this kind of app won't exhaust itself but rather create even more space for new concepts: in 2022, the worldwide sports app market size reached $3.7 billion, and it's predicted to grow even more, up to $6.5 billion.
So, what can sports apps offer to this huge fan base? How can your business get into the industry? Let's explore some app ideas for sports you can use to create your unique product.
The Sports App Market Size and Statistics
Many people don't like TV screens anymore and stream live sports on their mobile devices. For this reason, many sports companies are building their apps. It helps people watch anytime and anywhere on their mobile screens.
Apart from sports enthusiasts, many other people use mobile apps. Sports coaches, event organizers, and parents find these apps the most satisfactory way of communication with the sportspersons and handling teams to enjoy sports on the go.
Sports apps have become an indispensable part of daily mobile users, enabling them to use mobiles to know everything about sports. Here's what to know about the sports app market size and statistics:
According to a report from CBS News, 56% of Americans are sports lovers. 50% of the global population loves any sport, including baseball, basketball, cricket, soccer, golf, tennis, etc.
Each day, users spend around 50 minutes on sports applications.
According to Coherent Market Insights, the global sports apps market will experience effective growth during 2019-2027. The market development is highly associated with the increase in the acceptance of healthy lifestyles, using smartphones, and easy access to sports apps.
The worldwide sports market is predicted to reach 17,436.4 Million USD by 2027.
According to Statista, the number of downloads in the sports sector is forecasted to reach 2,033.9 million in 2022. Paid app revenue in the sports sector is expected to reach 188 Million USD in 2022.
Latest Trends to Follow in Sports App Development
Since there are many sports apps, your app should have some exceptional features. In that case, you should follow the latest trends in the sports industry. To help you out, we have discussed some of the latest sports market trends below:
1. Social Media Integration
With this feature, users can share their experiences on social platforms. Social media integration improves user engagement by sharing their feelings and views about an app on Twitter, Instagram, Facebook, and others. In short, it helps in brand recognition.
2. Wearable App Integration
Wearable technology is one of the latest trends developing globally. Due to tech advancement, wearable apps are becoming a crucial part of our daily lives.
3. Utilization of AR and VR
AR (Augmented Reality) and VR (Virtual Reality) play a crucial role in the sports industry. These technologies help provide real-life experiences in the virtual world. Using these technologies, live game streaming in an app can give the same user experience as sitting in the gallery of a stadium.
4. Cross-Platform App Development
We have already seen the shift of mobile app development to cross-platform development. Some tech biggies like Alibaba, Pinterest, Facebook, etc., have also used this technology to boost their efficacy.
Hence, this technology is a revolutionary change in sports app development. Its innumerable benefits include rapid growth, high performance, affordability, and more.
5. Use of AI
AI (Artificial Intelligence) is an inseparable part of every latest innovation of the sports industry. After all, it creates a better user experience. With this technology, a sports app can provide a tailored user experience and improve the user base. Moreover, AI offers support services for solving user queries with pre-decided answers.
6. Gamification
Now gamification is also a part of sports app development. It helps include new features to web and mobile applications to enhance user engagement. Also, it helps retain users for a more extended period.
All of these latest trends may prove to be a game-changer for building recognition for your sports app or your organization.
Top Trending Sports App Ideas
I have compiled a list of some fantastic sports app ideas to help you attract many users causing a massive profit for your app development investment. Let's check them out!
1. Fantasy Sports Apps
These apps are widely popular among global followers. In this app, users create virtual teams of real players, and they compete depending on the players' statistical performance in actual games.
The workflow of these apps looks like this: Select a match, and after registration, login, and OTP verification, users can choose their preferred game. The idea of these apps enables sports lovers to compete virtually and build their teams.
It gives them the feeling like they are contributing to a real game of their choice. For this reason, these apps are top-rated worldwide.
We have developed a fantasy sports app for cricket for one of our clients. The app allows cricket managers to create their own teams from real-life players, compete in open tournaments with other managers around the world, and keep track of real-time score.
2. Sports Ticket Booking Apps
You can draw ideas and inspirations from a ticket booking app for sports events. This app can provide a complete 3D map of the stadium and display the available seats that users can reserve. The app will help users find a suitable seat for having the best viewing experience and book seats for their preferred games.
Moreover, you can add some extra features to the app, like purchasing refreshments online and having them delivered to your seat in the stadium. Your app must also have the notification feature to inform users beforehand regarding every forthcoming sporting event.
3. Sports Betting Apps
Although people prefer watching sports, their interest grows when they invest their money in those games. Sports betting is now legal and famous in several nations. You will find various forms of betting, such as traditional betting that takes place in a betting marketplace by a bookmaker.
4. Sports coaching & training apps
A quality sports mobile app can become a great addition to a daily athlete's training routine and a tool for boosting his or her performance. It can help users track their food choices, sleep patterns, schedule training sessions, or even train online with the coach.
However, you can build this kind of product as a sports team app. In this case, it's important to create a well thought-out platform for communication between teams and coaches, as well as for tracking the team play results.
5. Live streaming & live score apps
Live streaming services have gained enormous popularity, especially after lockdowns limited all live meeting options. A high-quality multiplatform live sports app with a chat option can win the hearts of millions of sports fans that can't or don't want to leave their comfort place to enjoy the game.
A sports scores app with great search and notification features will definitely be attractive for users who want to know game results and their favorite players' performance first.
6. Sports betting apps
Betting is one of the things that goes hand in hand with sports, and for a good reason. The combination of favorite matches and gambling can be not only exciting but also profitable. To make outcome calculation easier and more secure, a sports betting app can have an internal currency or allow transactions with cryptocurrencies.
However, it's important to make sure this business is legal in the locale where you want to launch your app.
7. Sports league management apps
Sports applications can target not only a wide audience of fans but also more specific groups. League management apps are products for athletes and coaches, created as an all-in-one tool to improve communication between team members and coaches, manage training sessions, record team performance, and more. These applications can also be used for amateur or school sports classes.
8. Sports inventory & equipment store apps
These apps are very much like classical e-commerce platforms. In apps for selling sports goods, both athletes and sports enthusiasts can find various equipment, clothes, supplements, foods, wearable devices, inventory, merchandise, and so on.
The structure of a shopping sports app is similar to other online shopping platforms and should include catalogs, high-quality product images and descriptions, convenient search, a payment system, and other features.
9. AR/VR sports apps
Sports app developers striving to develop the best sports apps and make them stand out among other products often find inspiration in the latest technology. So, we can find examples of how creatively they apply AR and VR to an app for sports fans.
These technologies help users to immerse themselves into the game right from their homes, buy a ticket for a seat with a perfect view, play an AR/VR sports game, or get training insight.
10. Sports event booking apps
A sports event app is a must-have for efficient and seamless event organization. Users can get access to indoor and outdoor maps, choose a perfect seat on a 3D stadium map, and get a ticket. Not only that, visitors can view fresh event-related info, join a community, and even order food and drinks at the actual event.
From the managers' point of view, this kind of app can turn into an invaluable tool that can reduce workload, save time and costs, and avoid mistakes in event organization. These apps can also be used for booking sports grounds and facilities for personal games or coaching appointments.
11. Ticket sales apps
This app category is quite similar to the apps for sports events. However, a sports tickets app can have more specific functionality that boils down to seeking a better deal for purchasing a ticket.
It can be either a service that gathers sales from other marketplaces or a platform where users can exchange or sell the tickets they don't need. The developers of this kind of app should put emphasis on security and reliable payment methods.